10hp – 4 stroke engine
2 cylinders – 222cm³
Short, Long and Extra Long Shaft
Short shaft: 433mm shaft
Long shaft: 561mm/563mm shaft
Extra long shaft: 703mm shaft
Options: Tiller handle, remote control, electric starter
From 42 kg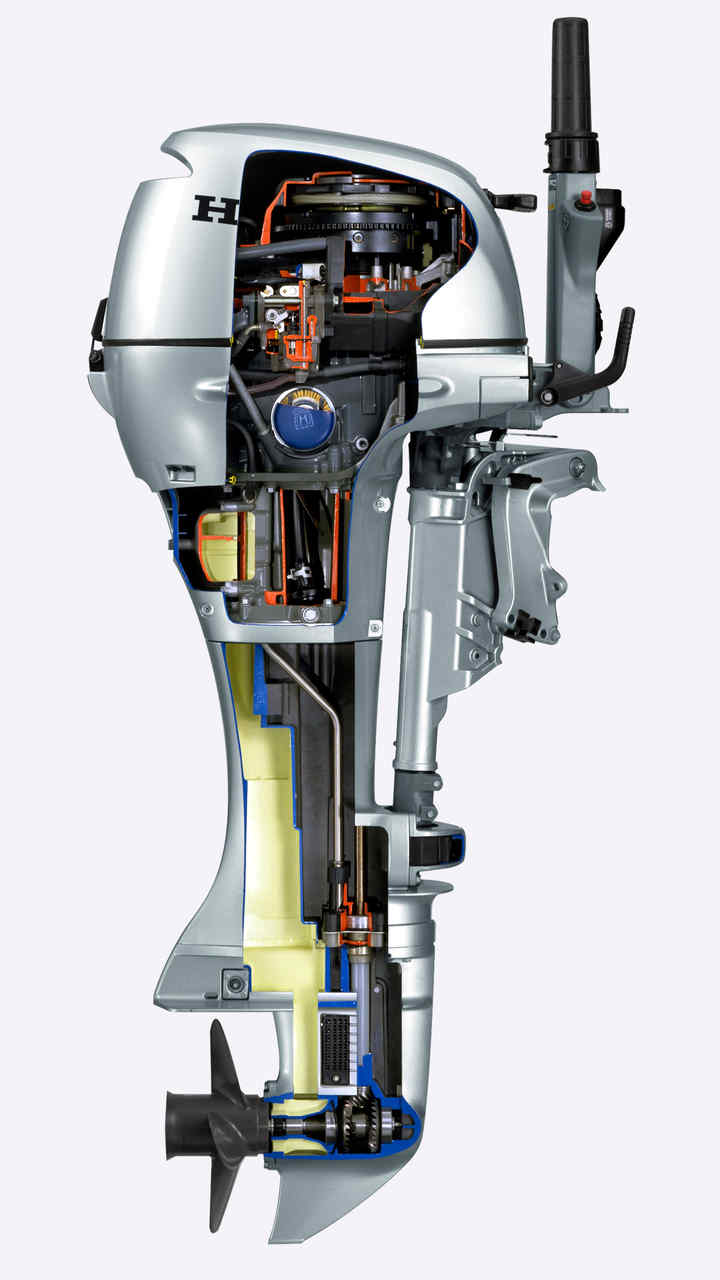 Easy starter
BF10 has a decompression system for easy starting. This makes the engine much easier to turn over with that initial pull if you have the manual recoil type, and less of a drain on your battery if you have an electric starter.
Easy Manual Tilt
The light engine is easy to tilt up in stages. Lifting up or down, enables you to manually trim the boat to give you maximum performance and fuel efficiency. It also stops you from damaging the propeller blades when you find yourself near rocks or the water's edge.
Engine protection and security
An Honda outboard alert system monitors engine temperature and oil pressure to prevent form any damage (only available on remote control models).
Remote control
Engines are available with an ergonomic and responsive remote control.
Solid performance
The Honda Programmed Ignition (PGM-IG) accurately controls ignition timing to provide an optimum torque and throttle response.
Easy astern
In forward motion a propeller will drive normally through water, but in reverse it's a different story – unless you have a Honda. On other outboards, the propeller will turn in exhaust bubbles and wont 'hook up' with the water. Our unique reverse exhaust relief system directs the exhaust bubbles away from the propeller, so that it can 'grip' the water – instead of air. The result is instant reverse response with much finer control.
Easy on your wrist
Both engines have a Forward Mount Shift Lever for fingertip gear changing. It's so much easier to operate and better located than on other outboards, whether you're left or right-handed. Together with a soft-grip throttle handle and a twist-lock, it's effortless. You can just roll on and off the power all day long, or lock it off – just like cruise control.
High output charging
12A (Electric start models) and 6A (Recoil models) outlets maintain battery charge and keep electronics powered, event at trolling speed.
Plenty of it too. And with a reputation built on reliability, superior fuel-efficiency and low emissions, your boat isn't complete without one.
These light 4-stroke engines are easy to get going, and feature Programmed Ignition (PGM IG) so when you start your Honda – even from cold – it will never let you down.
With electric start engines it's so important to keep your battery in good condition so that they stay reliable. And if you have electrically powered instruments on board, the high-output charging coil maintains top level charging to keep everything working – even at trolling speeds. The standard four-blade propeller transfers the power through a slim hydrodynamic gear case straight into the water
With its stunning silver finish you'll see right away it's a Honda. Fixed to the back of the boat and in the water, it looks great as the surrounding colours are reflected in the finish. Sleek design and sculpted lines run all the way down to the super-slim hydrodynamic gear case, meaning less drag and better fuel economy when you're really going for it.
Foldaway handles : The BF8 and BF10 have foldaway handles built-in, positioned exactly on the point of balance to make them really easy to transport – even carrying them around they look fantastic.


| | |
| --- | --- |
| Engine Type | 4st Water Cooled |
| Valves | OHC 2-Cyl. |
| Displacement (cc) | 222 |
| Bore X Stroke (mm) | 58 x 42 |
| Full Throttle Range (RPM) | 5,000-6,000 |
| Rated Power (kW (PS)) | 7.4 (10) |
| Cooling System | Water Cooled (with Thermostat) |
| Fuel Delivery | 1 carburettor with accelerator pump |
| Ignition System | Electronic PGM-IG |
| Starting System | Electric / Recoil starter |
| Exhaust System | Propeller boss |
| Gear Ratio | 2.33 |
| Propeller Rotation | Standard |
| Engine Trim and Tilt | Manual / Manual 5 stages |
| | |
| --- | --- |
| Transom Height (mm) | 433 SHU & SHSU/563 LHU/561 LHSU/703 XRU |
| Dry Weight (kg) | 42 SHU/44.5 LHU/45.5 SHSU/46 SRU/48 LHSU/48.5 LRU/52.5 XRU |
| Overall Length (mm) | 610 (Tiller) |
| Overall Width (mm) | 345 |
| Overall Height (mm) | S:1105/L:1235/X:1375 |